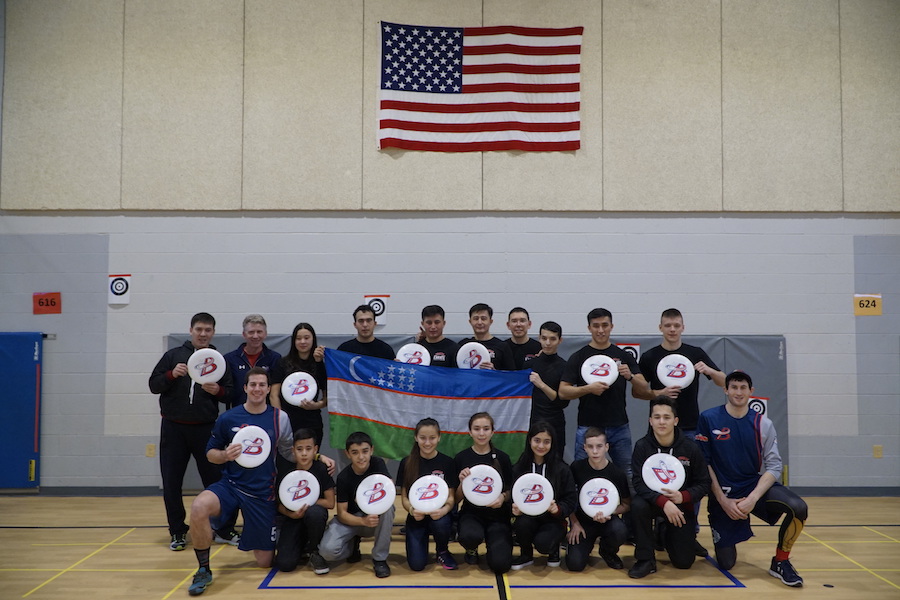 A youth Karate team from Uzbekistan and their instructors were the most recent beneficiary of a DC Breeze Ultimate clinic through the U.S. Department of State's SportsUnited program. Breeze players Brad Scott and Matt Kerrigan led the clinic for this group of talented young martial artists in this latest installment of our ongoing international clinic series.Working with a well-trained athlete is a joy for any coach, and the visitors from Uzbekistan did not disappoint. All the participants picked up Ultimate extremely quickly, and they even shared a very impressive karate demonstration with their new American friends at the end of the session (see video below). Coaches and participants agreed that this was another highly successful clinic in a series that is quickly becoming a favorite for SportsUnited visitors and Breeze players/affiliates alike.
More Information
SportsUnited Pogram: Web Site | Facebook | Wikipedia
Previous DC Breeze Sports Diplomacy Clinics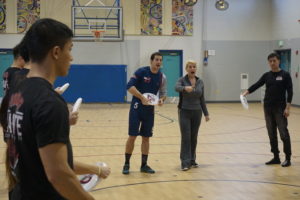 The DC Breeze organization has been fortunate to partner with the SportsUnited program since early 2016. The program itself is unique: a partnership between the United States Department of State's Sports Diplomacy division and the Center for Sports Management at George Mason University that brings youth athletes, coaches, and athletic administrators from around the globe to the United States. Participants enjoy cross-cultural exchange, gain insights into the American sports industry and reaffirm that athletics can be a vital medium for diplomacy. One top priority of the SportsUnited program is ensuring that visitors have the opportunity to interface with Americans through athletics, social hours, and meals.
Enter the DC Breeze. Drawing coaches from the deep talent pool in the DC, Maryland, and Virginia pro and club ultimate scene, these Breeze-led clinics have  become a reliable and fun part of these SportsUnited visits, enriching the exchange for both parties.
Leaders at the Sport Management program at George Mason University tailor each visit to the individual group of SportsUnited visitors, and develop a schedule that meets the professional and educational needs of each group. The DC Breeze are pleased to play a role in the SportsUnited program, and future participants can look forward to developing their Ultimate games  from some of the brightest talents in the sport. Plus, getting an official Breeze disc as a souvenir doesn't hurt, and allows the visitors to continue honing their newfound skills when they get home.