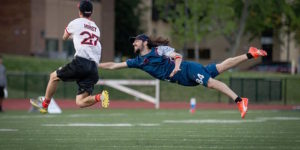 Here are the Top 10 Breeze players in Defense during the 2016 season. Determining each player's impact through metrics alone paints a limited picture of the season to say the least. However, measuring a player's — and team's — overall defensive impact is in part a numbers game. 
To determine the Breeze 2016 Defensive top 10, we considered several statistical categories along with the overall impact each player's defensive activity had on the season whether or not they played the majority of their points on the D line. The players were ranked based on their total number of Ds (blocks), defensive efficiency, average Ds per point played, number of pulls, and finally, those elusive Callahans — even if only four Breeze players captured those unicorns this season. With caveats in mind, this list reflects the order of importance the categories had on each player's ranking in addition to the intangibles when the other team possessed the disc — regardless of which side had it at the start of the point. The Top 10 lists for each subcategory are also included below.
1. Rowan McDonnell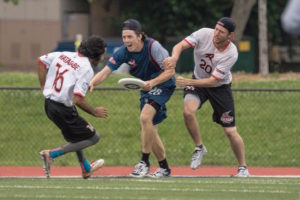 McDonnell tops our rankings with 22 Ds and 0.07 Ds per point played, good for 1st and 2nd best on the team, respectively. He was just outside the Defensive Efficiency Top 10 at -0.32, and was also a very reliable puller with 113 serves along with a boat load of inspiration every time he was out there on the D line — and that was 271 times in 2016, by far the most on the team.
2. Nicky Spiva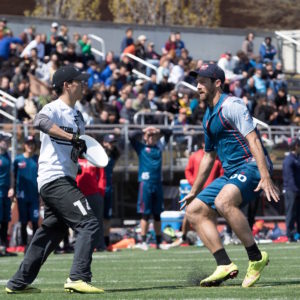 By our metrics Spiva ranks a very close 2nd among the Breeze's defensive experts with 21 Ds throughout the season for 2nd highest total on the team, along with a team leading 0.08 Ds per point played. His Defensive Efficiency was a strong -0.18, he contributed 61 pulls for the team and was also one of only four players to register a Callahan in 2016.
3. Chuck Cantone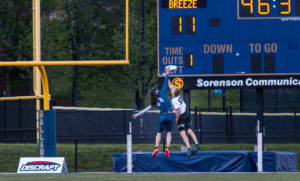 Cantone had 17 Ds this past season and 0.07 Ds per point played, the latter tied for 2nd on the team with McDonnell. He also wrangled a key Callahan for the Breeze this season along with several other huge defensive plays when it mattered most.
4. Brian Marshall
Marshall came in fourth place with 15 Ds, an average of 0.05 Ds per point played and a -0.31 Defensive Efficiency score as a key D-line contributor during the season. He lined up to defend 245 times, 2nd most on the team. While he did not contribute to the team's Callahan count, he did pull 16 times.
5. Markham Shofner
Shofner contributed 13 Ds during the season and had an average of 0.05 Ds per point played despite playing 2/3 of his points on the O-Line. But whether or not he got the D himself, when he was on the D-Line he made a difference: his Defensive Efficiency was a remarkable -0.13, almost 25% better than 2nd best on the team. Shofner also had 12 pulls during the season, including the particularly memorable one in this video from Opening Day:
6. Alan Kolick
Neither a puller nor a Callahan scorer in 2016, Kolick makes the Breeze defensive  top 10 for his contributions of 12 Ds, an average of 0.04 Ds per point played and a Defensive Efficiency of -0.17 that tied him for 2nd on the team.
7. David Cranston
For the 2016 season, powerhouse defensive cutter David Cranston had 11 Ds, averaging 0.06 Ds per point played in his 10 games as he worked around an injury.
8. Jeff Wodatch
Wodatch, arguably the Breeze's most adaptable cutter, came away from the 2016 season with 11 Ds and a 0.033 Ds per point played average. That's pretty amazing for someone playing more than 3/4 of his points on the offensive line!
9. Alex Jacoski

It's only natural that Strength and Conditioning coach Alex Jacoski was the squad's most reliable and most utilized puller with 117 serves. He also had 10 Ds and 0.05 Ds per point played.
10. Brad Scott
Despite starting his offseason with bilateral hip surgery for injuries that hampered him throughout much of the 2016 season, Scott was a defensive force all year. He captured 10 Ds, good for 0.04 Ds per point played.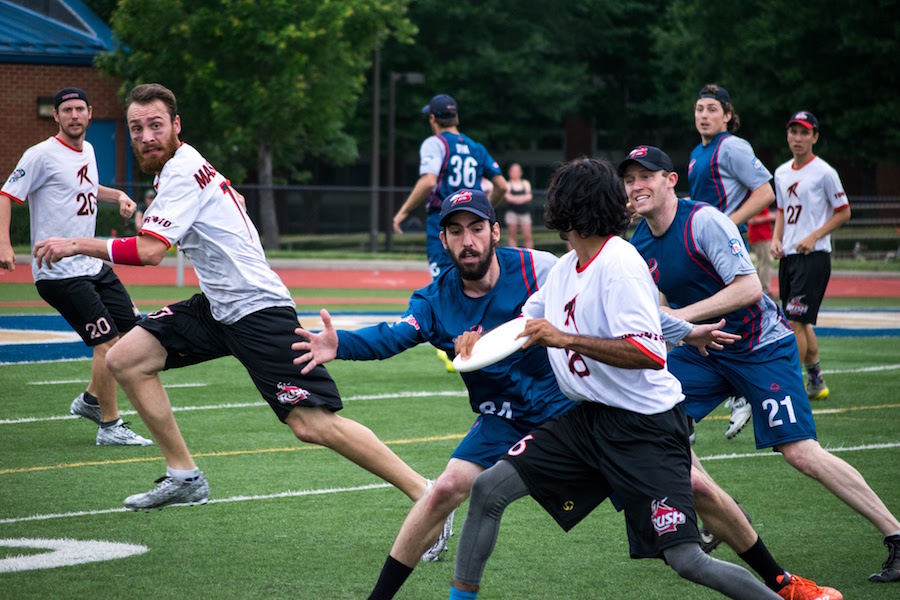 Top 10 Categories in Defense
Ds (Blocks)
1 Rowan McDonnell, 22
2 Nicky Spiva, 21
3 Chuck Cantone, 17
4 Brian Marshall, 15
5 Markham Shofner, 13
6 Alan Kolick, 12
7 Jeff Wodatch, 11
7 David Cranston, 11
9 Alex Jacoski, 10
9 Brad Scott, 10
Defensive Efficiency (min 80 D points played)
1 Markham Shofner, -0.13
2 Brett Matzuka, -0.17
3 Alan Kolick, -0.17
4 Nick Spiva, -0.18
5 Matt Radhe, -0.21
6 David Cranston, -0.24
7 Alex Jacoski, -0.25
8 Russ Howd, -0.26
9 Jon Pressimone, -0.27
10 Brian Marshall, -0.31
10 John Agan, -0.31
10 Nate Castine, -0.31
Defensive Efficiency is defined as follows:
+1 for a D-line goal (break) for a point in which the player was on the field.
-1 for an opponent score against the D-line for a point in which the player was on the field.
Ds Per Point Played (min 80 D points played)
1 Nicky Spiva, .08
2 Chuck Cantone, .07
2 Rowan McDonnell, .07
4 David Cranston, .06
5 Alex Jacoski, .05
5 Brian Marshall, .05
5 Markham Shofner, .05
8 Andrew Allen, .04
8 Nate Castine, .04
8 Russ Howd, .04
8 Alan Kolick, .04
8 Jon Pressimone, .04
8 Brad Scott, .04
Pulls
1 Alex Jacoski, 117
2 Rowan McDonnell, 113
3 Nicky Spiva, 61
4 Nate Castine, 55
5 Brian Marshall, 16
6 Markham Shofner, 12
7 Jon Pressimone, 6
7 Bob Liu, 6
8 Chuck Cantone, 4
9 Brett Matzuka, 3
Callahans (4 tied with 1)
Nicky Spiva
Chuck Cantone
Tyler Monroe
Kyle Johnson