The DC Breeze announced today that defensive cutter Matthew "Rowan" McDonnell will return to the Breeze roster for the 2017 season.
Over the course of the 2016 season, McDonnell played an astonishing 336 points and scored 21 goals for the Breeze. He also captained the 2016 squad along with Brad Scott and Nicky Spiva.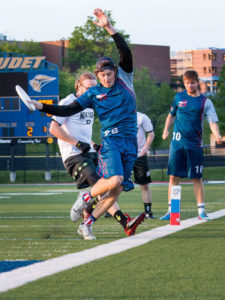 "I knew as soon as we lost to Toronto in the Conference Championship that I would be back," McDonnell said. He's not just back on the roster, but back with a mission. "I'm motivated to push the Breeze to places they haven't been to yet. Knowing who the Breeze already have and who they will be signing in the future gives me confidence that we will compete for the East."
McDonnell had a positive impact for Breeze in almost every capacity in 2016. He was ranked 8th in the team's Top 10 Passers, 4th in Top 10 Receivers, 1st in Top 10 Defenders, and 2nd among the Top 10 Overall Field Impact Players. He played in 14 of the team's 16 games in gathering his team-leading 336 points played, clocking in at 24 pts/game.
Off the field, McDonnell has devoted himself to the DC area ultimate scene as a coach for youth and college Ultimate organizations. Notably, he is in his second year coaching the the American University (AU) Dirty Ladies and is joined this year by DC Scandal's Shino Yoshen.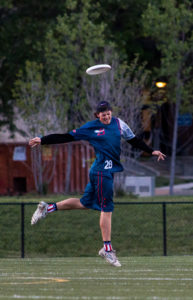 "Rowan puts so much care, thought and dedication into the AU women's team. He plans mindfully and balances big picture teaching with individual feedback," Yoshen remarks. "When planning practices, Rowan is creative and open to mixing our various experiences as we introduce new ideas to the team." Many of the AU players can be found in the stands supporting their coach during Breeze home games. And given this role with the AU women's team, Rowan will no doubt play a part in the recently announced All-Star showcase game to take place this March.
With his limitless energy to grow the sport, McDonnell also coaches Swanson Middle School in Arlington and has been instrumental in organizing and coordinating Breeze clinics for foreign visitors through the Breeze's State Department partnership program. He led the DC Parks & Recreation youth clinics at Fort Stanton Recreation Center last July that were featured on ABC7 News, and then he and Breeze teammate Matt Kerrigan spearheaded the WAFC/Breeze Middle School Clinic Series earlier this fall.
"The Breeze also use a lot of time and resources to set up local clinics in DC, Virginia and Maryland. That, alongside coaching American University Women's team with Shino, allows me to have a large impact on the future of DC ultimate. It's a community I've grown attached to in my 18 months here." And in turn the DC Ultimate community has become attached to him.

We're looking forward to having McDonnell take the field again in 2017, and to seeing how he continues his community building efforts throughout the off-season.